---
Elissa + Gabo
A Boho Fiesta Wedding
---
I always knew Elissa was a style queen… but I didn't realize she was going to BLOW ME AWAY with her incredible boho bridal look!! My jaw dropped when she showed me her incredible dress and I couldn't get over it all day. I still can't. I am SO excited to be sharing this amazing boho fiesta wedding at El Pinto Resturant & Cantina today!
Before getting to the images I'm dying to share with you, I've got to give a massive shout out to the amazing families surrounding Elissa and Gabo. I actually shot Elissa's older sister's wedding (check it out here!) last year and totally fell in love with their little family unit! They are really (and I mean REALLY) close and I totally love it! They have been so inclusive and fun for me to work with (aka laugh all day with) annnd overall are just too good to me! I just adore them!! Similarly, Gabo's parents are so warm and welcoming, you just can't help but feel happy around them!
Elissa and Gabo, you two have been so wildly fun to work with and I'm torn up that I don't have any more excuses to hang out with you two anymore! You have been on so many adventures together, I can't even believe it's real! I adore you both and can't wait to see what the future has in store (besides more adventures –thats obvi). xoxoxoxoxox
"He's my best friend and I want to do everything in life with him. Whether it's a trip to the grocery store or a musical festival, it's an adventure and we make the best memories together. One of my favorite qualities of Gabo is how simple he is. It doesn't take much to make him happy and almost anything we do together he considers fun. It's the perfect reminder to never take life too seriously.
Gabo challenges me to try new things. In December we rode the worlds fastest roller coaster and kayaked in the Persian Gulf. When I'm with him I do things that are outside of my comfort zone. He always introduces me as "his better half" but I hope he knows how truly amazing he is! My world is a better place because he's in it." – Elissa
Boho Fiesta Wedding | El Pinto Wedding Venue
Albuquerque Wedding Photographer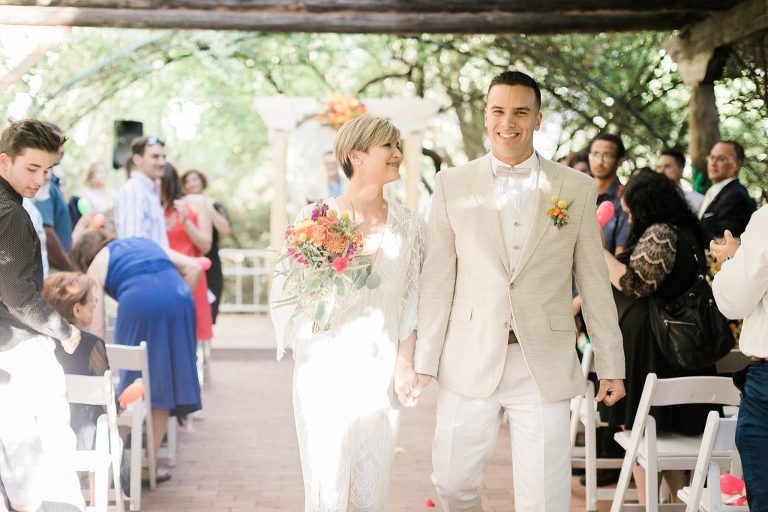 Venue: El Pinto Resturant | Florist: Melba's Flowers | Invitations: JP Stationary | Dress: BHLDN | DJ: Gabriel Ortega | Cakes: Kathy Thorpe | Officiant: Damon Hudson
Did you just ADORE Elissa's amazing style? You'll also love her look in their Boho Engagement Session in White Sands!