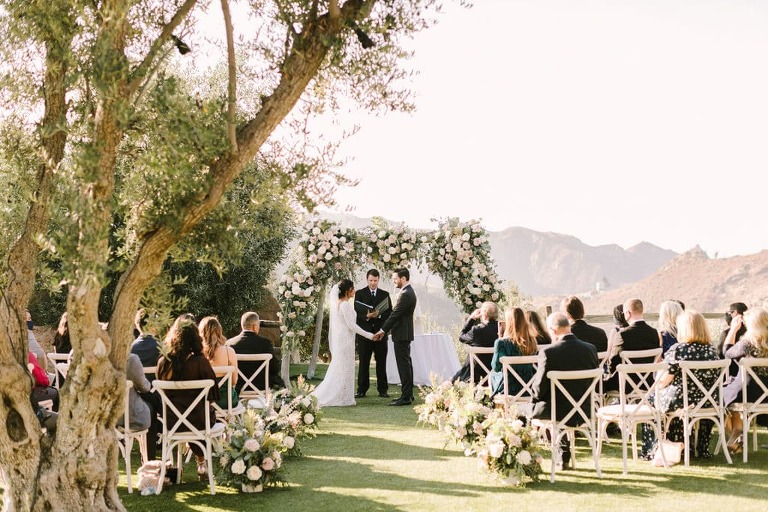 With thirty acres of Tuscan-inspired estate, lush olive trees, and panoramic views of the rolling Santa Monica Mountains, the Cielo Farms wedding venue is an awe-inspiring place to tie the knot. As an added bonus for fans of the show New Girl, this is the venue where Shmidt and Cece had planned their wedding!
What you'll find in this wedding venue guide: 
How Many Guests Can You Have at the Cielo Farms Wedding Venue?
Before you fall in love with a venue, it's important to know its capacity, and how many guests you anticipate! Cielo Farms can accommodate up to 200 people, so it's perfect for medium-big celebrations.
Location of the Cielo Farms Wedding Venue
Cielo Farms is located in picturesque Malibu, California. It's surrounded by gorgeous scenery, and you'll have the serene venue to yourself, with greenery and olive trees around you.  
The address: 31424 Mulholland Hwy, Malibu, CA 90265
There's tons to do for you and any guests near the venue! Cielo Farms is right between Point Mugu State Park and Topanga State Park, and you can hike at the Santa Monica Mountains National Reserve, or have a relaxing day at one of Malibu's many scenic beaches. In town, you can explore local restaurants, shops, and more!
Weather & Seasons at Cielo Farms
When it's time to set a date for your wedding at Cielo Farms, you'll need to think about the weather! Malibu's location on the coast of Southern California means that it's pretty perfect year round.
Summers can get really hot, so the temperatures in the high 80s might be too toasty for an outdoor ceremony. Spring and fall are more mild, offering absolutely idyllic temperatures that are warm, but not too hot! Winters are great for weddings as well, and it never gets too cold in Malibu. Winter is the rainiest season, though there's an average of just 5 rainy days per month from December to February.
Once you have a season or time frame in mind, it'll be time to set a date for your wedding at Cielo Farms. Keeping your options open can be helpful, so that you can work with the venue to find a date that they have available! Though Saturday weddings are the most popular, getting married during the week has some advantages to consider – it'll likely be easier to find an available date, and you'll get a better rate!
Ceremonies at Cielo Farms
Ceremonies at Cielo Farms typically take place on the lawn, where you can set up an arbor and chairs for your guests, with incredible views of the mountains behind you! The sunsets over the hills are absolutely amazing, and the olive trees surrounding the ceremony space make for a peaceful, serene place to exchange vows.
Receptions at Cielo Farms
For your reception, you can move the party indoors, or stay outside! The rustic stone barn has a gorgeous wooden interior, with a dance floor, room for tables and chairs, a bar, and a loft for you to get ready in. 
If you host your reception outdoors, you can celebrate with your loved ones with views of the stunning mountains and vineyards, and the stone barn in the backdrop. The reception space is decorated with string lights, creating a warm, cozy atmosphere for you to dance the night away and spend time with your guests.
More Amenities at the Cielo Farms Wedding Venue
Along with a venue for your ceremony and reception, Cielo Farms has everything you need for the perfect day! Here are some amenities that you can expect for your wedding.
Getting Ready Rooms
Cielo Farms has a place for you to get ready and hang out with your wedding party before the festivities begin! 
Another option for getting ready is a nearby hotel – the Westlake Village Inn. This luxurious hotel has a pool, spa, and more, providing a relaxing place to stay before and after your wedding!
Menu Design
Cielo Farms works with Trés LA Catering to create a menu for your wedding day, with delicious food and a unique menu personalized for you! 
Local Wines
Because this is a vineyard venue, for your day you'll have your choice of locally made wines that pair perfectly with your menu.
And More!
Here are some more amenities at the venue:
Valet parking service
Rentals from Premier Party Rentals
Lighting and event design
Cielo Farms Wedding Photo Inspiration 
For Cielo Farms wedding photo inspiration, check out this Pinterest board. To see more venues, and to get tips, resources, and inspiration for planning your unique wedding, follow us!
Cielo Farms Wedding Venue Cost
The cost of renting this wedding venue for your day can depend on your date, day of the week, and number of guests! During peak season, the venue costs $19,500. 
For the most up to date pricing, check out their pricing here, and reach out to the venue for a quote!
Book the Cielo Farms Wedding Venue
If you love Cielo Farms, the next step is to send an inquiry! Fill out the contact form on their website, and you'll chat with someone at the venue about availability, pricing, and scheduling a tour. Once you're ready to book it, you'll sign a contract and pay the 50% deposit!
Cielo Farms Wedding Photographer
To capture the beauty of Cielo Farms, and all the magic of the day you get married, you'll need to find the right wedding photographer. We're ready to help you document it all, so contact us to get started!
Your photos will tell the story of your wedding day forever – so we're all about real, genuine feelings and capturing the little moments. Click here to get to know us!
Even More Venues…
Want to see more? Explore tons of gorgeous wedding venues across Southern California: