Nestled in the hills of Highland Valley, you'll find the gorgeous Cordiano Winery. This incredible venue features views of the valley and the rolling hills, and offers some of the most jaw-dropping sunsets around! The Cordiano Winery wedding venue is absolutely perfect for couples who want to get married in Escondido.
This guide will tell you all about the Cordiano Winery wedding venue, and everything you need to know about tying the knot here!
What you'll find in this Cordiano Winery wedding venue guide: 
How Many Guests Can You Have at the Cordiano Winery?
One of the first considerations when it comes to finding the perfect wedding menu is the capacity – because of course, you need to make sure that you'll be able to host all of your wedding guests! The Cordiano Winery can host up to 150 people, so it's perfect for intimate celebrations or small-medium sized weddings.
Location of the Cordiano Winery Wedding Venue
The Cordiano Winery wedding venue is located in Escondido, California, close to the cities of San Diego and Carlsbad. It's a convenient and easy to get to location, but it's a little bit away from the hustle and bustle, and you'll feel the serenity and peace of San Diego County's wine country.
The address: 15732 Highland Valley Rd, Escondido, CA 92025
Nearby, you'll find lots of fun things to do for the two of you, and for any out-of-town guests! You can visit the San Diego Zoo Safari Park, take a wine tour, or get out in nature in the nearby Cleveland National Forest or hike in Palomar Mountain State Park.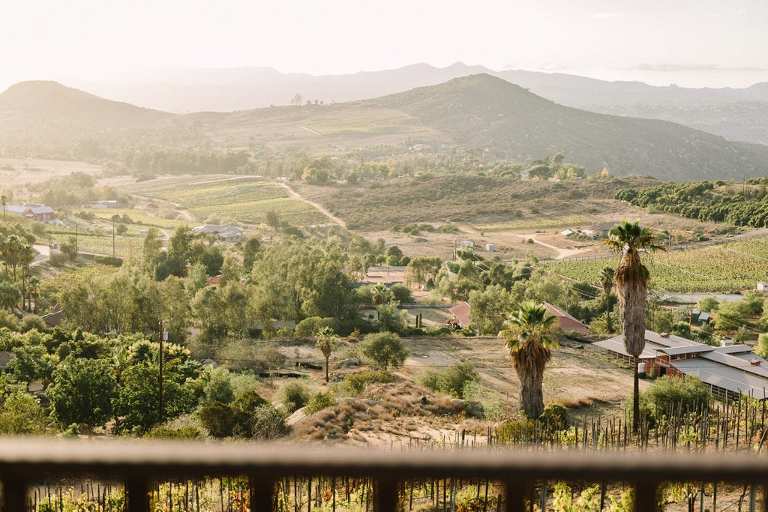 Weather & Seasons at the Cordiano Winery Wedding Venue
Before you book the Cordiano Winery wedding venue, you'll need to think about potential dates for your wedding! The weather will be a big consideration, but luckily, Southern California is known for great weather and year-round sunshine, and Escondido is no exception. 
Summer days get pretty hot, with averages reaching almost 90° – this can be a little hot for photos outside, so the most popular times to get married at the Cordiano Winery wedding venue are spring and fall, when the weather is warm and sunny, but temperatures aren't as hot.
Winter isn't a very popular time for weddings, but this can mean you'll have an easier time booking the venue! Daytime temperatures are pretty idyllic, with averages in the high 60s, though you and your guests may definitely need some layers to spend time on the deck in the evening. Winter is also the rainiest season, but December through February, the average number of rainy days per month is only five.
Another thing to consider when it comes to your wedding date is the day of the week you get married! Of course, Saturday weddings are the most popular, but you can totally tie the knot on a weekday – you may get a discounted rate, and the venue is also more likely to be available on the day you choose.
Getting Ready at the Cordiano Winery 
One thing to note about the Cordiano Winery wedding venue is that there actually is no getting ready space. But, don't worry! There's a great resort nearby called the Rancho Bernardo Inn where you can get ready for the day, or you can book a nearby Airbnb for getting ready, your first look, and some photos.
Ceremonies at the Cordiano Winery 
Ceremonies at the Cordiano Winery wedding venue usually take place indoors, in a gorgeous space with big windows that let in plenty of natural light, rustic wooden ceilings, and string lights that make the place feel incredibly cozy. The ceremony space can be decorated with florals and greenery, and it's really customizable and perfect for any couple!
Receptions at the Cordiano Winery 
Cocktail hour is held on the deck outside (and small receptions can be held here as well), where your guests can mingle while the ceremony space gets transformed for the reception. Once it's time to head back inside, you can dance the night away and celebrate with your guests as the sun sets around you!
Styling & Coordination at the Cordiano Winery Wedding Venue
One of the best things about me getting married at the Cordiano winery is that they've partnered with Sisti & Co., who is a wedding planner and florist based in San Diego. At the Cordiano Winery wedding venue, she offers full wedding coordination, and she designs and styles each wedding to be unique and one-of-a-kind, reflecting the personality of each couple! 
She'll work with you to create the perfect wedding day, and make sure that you can relax as she handles everything!
Cordiano Winery Wedding Photo Inspiration 
For some Cordiano winery wedding photo inspiration, check out this Pinterest board! And if you want to see more wedding venues, planning tips, and inspiration for your day, follow along on Pinterest.
Cordiano Winery Wedding Venue Cost
The rental cost for the Cordiano winery wedding venue will depend on the date you choose, number of guests, and a few other factors. For 50 guests, pricing starts at $8,195 – but to see a complete pricing guide from the venue, reach out and contact them!
Book the Cordiano Winery Wedding Venue
If you want to get married at this gorgeous vineyard, and to tie the knot surrounded by the rocky hills of Escondido, the next step is to send an inquiry! Fill out the contact form on the venue's website to learn more about availability, pricing, and everything you'll need to book the venue.
Cordiano Winery Wedding Photographer
Once you've decided on the perfect wedding venue for your day, the next step is to find your dream photographer! Hiring someone with experience working at this venue can be super helpful, and we're ready to help make your dream day come to life. Contact us to get started!
We want to capture everything that makes the two of you unique, and everything that makes your wedding day the best day of your life – click here to get to know us a little better.
Even More Venues…
Want to see more? Explore tons of gorgeous wedding venues across Southern California: