---
Savannah + Ryan
Engagement Session at Wipeout Beach
---
These two were TROOPERS for their engagement session at Wipeout Beach in La Jolla, CA! Not only did we climb and scale some serious sea cliffs, but they were nearly drenched by a big wave and just laughed it off!!! My kind of people! haha! I admire their positive, laid back attitudes even when things go a little awry. Overall, these images turned out more magical than I could have anticipated and I'm just so thrilled! I've actually been wanting to shoot at this location ever since I found it on a winter afternoon outing a couple of years ago. Finally, I've found the PERFECT couple for this setting!!
"I want to capture this brief but beautiful time. We will only be engaged for a short period our lives. It is a transition time unlike any other; a time when we start to transform our individual lives into a life we will create together, one that we will continue to work to build for the rest of our lives. I want to remember this feeling, how in love with him I am at this moment and how excited I am for the things to come!" -Savannah
Engagement Session at Wipeout Beach, La Lolla, CA
La Jolla Engagement Session | La Jolla Wedding Photographer
Wait for it…
😂😂😂 Isn't Ryan the best??! We decided it was worth it though –haha!
"The beginning was basically how it has been our whole relationship, very easy going, fun, and comfortable. We just clicked. I remember feeling surprised that we had such effortless chemistry." -Ryan
"My first impression of him was that he had the most beautiful blue eyes and we had an instant connection. We danced and kissed and sat on the beach and talked all night long. We talked about everything that night, I told him things that I hadn't told anyone else, he was so easy to talk to and we had so much in common that our conversation flowed naturally." -Savannah
"I don't specifically remember a moment when I knew I wanted to marry her, but there's just always been this feeling between us that it's going to happen. Like almost assumed. I was really anxious when I was shopping for the engagement ring and planning the proposal because I had to keep such a big secret from her." -Ryan
Then we took a little beer break in the sand!! Haha!!!
…and of course, you always want to run around spinning after slamming a beer, right?? 😂😂
"I had never felt the feelings I felt for Ryan about any other person I had ever been with. It felt like we were drawn to each other, like a magnetic pull, and it still does. I would get goosebumps just thinking about him and I was always thinking about him even when we weren't together. We quickly became inseparable. I remember feeling so incredibly happy and excited whenever I was around him. I love the way he made me feel, and still makes me feel when he holds me close to his chest. He is my rock. The one person I can count on to be with me through the bad and the good. He is a stabilizing force in my life, and often times my voice of reason when I can't see things clearly on my own." -Savannah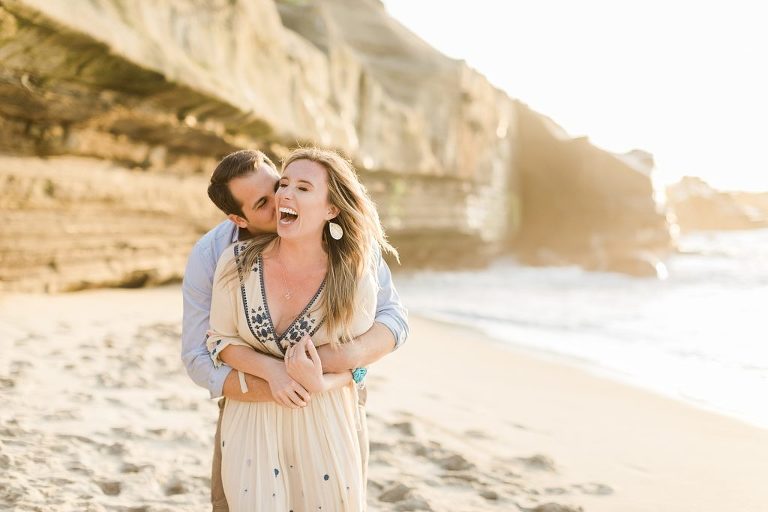 I love what a beautiful and free spirit Savannah is!
Long white dress: Free People
Did you love this glowy beach session at sunset? Then you'll love Caroline + Tucker's Black Sands Beach Engagement Session!
Are you interested in an
Adventure Session?
Book yours today! Visit this page and fill out my contact form at the bottom!