Temecula is known for its wineries and resorts, and if you're looking for a picture-perfect spot to get married, with rolling vineyards, a luxurious setting, and stunning greenery, look no further than the South Coast Winery wedding venue! 
This guide is all about the venue – since finding the right one is usually the first thing on a couple's wedding planning to-do list, we'll talk about everything you need to know to decide if the South Coast Winery is the right place to host your day.
What you'll find in this South Coast Winery wedding venue guide: 
How Many Guests Can You Have at the South Coast Winery?
Before you start looking at wedding venues, it's great to have a ballpark number in mind of how many guests you want to invite – because of course, you don't want to fall in love with a dream venue only to find out it isn't big enough for your celebration.
Luckily, most couples won't have that problem with the South Coast Winery wedding venue! They can host up to 500 guests, and with over 30,000 square feet of space, there's plenty of room to celebrate with all your loved ones.
Location of the South Coast Winery Wedding Venue
Location is a big factor since you'll need to get yourself and your guests here for the big day!  The South Coast Winery is located in Temecula's wine country, right in between Los Angeles and San Diego counties. It's an easily accessible location, but it feels quiet and far away from everything!
The address: 34843 Rancho California Road, Temecula, California 92591
Nearby, you'll find tons of wine country adventures for the two of you, and maybe for some of your guests too! You can soar over Temecula in a hot air balloon, take a wine tour, and if you want to immerse yourself in nature, visit the Santa Rosa Plateau Ecological Reserve for a hike or a relaxing picnic.
Weather & Seasons at the South Coast Winery Wedding Venue
To set a date for your wedding, you'll need to know the best time to tie the knot at the South Coast Winery. Its idyllic location in sunny Southern California means that you can get married any time of year! 
The most popular months for weddings at the South Coast Winery are September and October – but peak season is considered to be all of April through October, so make sure to inquire early, as they will book up fast! Spring and fall are the best times to get married in Temecula because the weather is warm and sunny, but not quite as scorching as the summer. 
Winters don't get very cold, though mornings and evenings can be chilly – so guests might want a jacket for the reception. This is also the rainy season, so while it doesn't rain too often, it's definitely something you should prepare for. 
Another thing to keep in mind when you choose your wedding date is that you don't have to tie the knot on a Saturday! Getting married on a weekday can be more convenient, as more venues will have availability. As an added bonus, you'll often get a cheaper rate!
The Venues at the South Coast Winery 
You'll have a few different options, both indoors and outdoors, for your ceremony and reception when you tie the knot at the South Coast Winery.
The Rose Arbor
Most couples have their ceremony in the garden, with the Rose Arbor. You'll have gorgeous greenery surrounding you, room for chairs on the lawn, and mountains in the backdrop!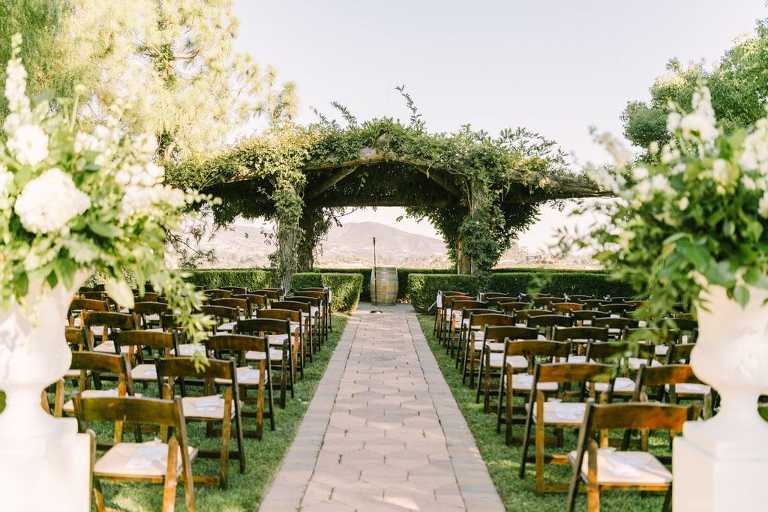 The Courtyard
The Courtyard is a perfect space for outdoor receptions, and you also have the option to have your ceremony on the stairs. With backdrops of the Tuscan-inspired building, string lights overhead, and a gorgeous setting outside, it's the perfect place to celebrate with your family and friends!
Indoor Venues
There are several indoor options, mostly used for receptions but can accommodate a ceremony as well. The Ballroom is the biggest, accommodating up to 400 guests. The Barrel Room is a cozier, intimate space for up to 180, while the Gold Room is perfect for up to 100 people.
More Amenities at the South Coast Winery Wedding Venue
Along with a place to tie the knot, at the South Coast Winery wedding venue, you get so much more! Here's what you can expect.
Accommodations
Since the South Coast Winery is a resort, there are places to stay for you and your guests! With different villas and suites, you'll have a cozy place to get ready for your wedding day, and to relax afterward. When you book your ceremony and reception, the couple will get a complimentary king villa for the night before and the night of your wedding!
Spa
What better way to prepare for your wedding day, or to unwind on your honeymoon than to relax at an award-winning spa? At the South Coast Winery, you can enjoy massages, a nail salon, an outdoor saltwater pool, and other services that will leave you feeling tranquil and refreshed!  
Venue Coordinator
When you book the venue, you'll get a coordinator who will work with you to plan every detail – creating a timeline, coordinating with vendors, setting up and breaking down, and everything you need to ensure you don't have to worry about a thing!
Catering Manager
You'll also work with a catering manager, who will guide you through personalizing the food and beverage selections for your day! You're getting married in a vineyard, so of course, you'll have the best wines paired with every meal. For the reception, you can choose from a plated dinner or a buffet.
And More!
There are even more amenities to ensure that your day at the South Coast Winery is absolutely unforgettable. There are different packages and options to choose from, but here are just a few more things to look forward to:
Rehearsal dinner
Complimentary tastings
Sparkling wine tray during cocktail hour
Premium bar & wine service
Chairs and tables
Gourmet coffee and tea
Wooden dance floor
Shuttle service
South Coast Winery Wedding Photo Inspiration 
For more photos and inspiration, check out this South Coast Winery Pinterest board! And for more venues, wedding planning tips, and wedding inspo, follow along.
If you're still searching for the right venue, check out this list of Temecula wedding venues for more spots!
South Coast Winery Wedding Venue Cost
Budget is a big factor in finding the perfect wedding venue. For the most up-to-date pricing info, make sure to reach out to the venue! Prices can depend on the number of guests, peak dates (opt for a weekday for the best rates!), and more – but the average venue fee at the South Coast Winery costs between $13,000 to $18,000. 
Book the South Coast Winery Wedding Venue
Have you fallen in love with the South Coast Winery? If you're ready to schedule a tour, send them an inquiry for pricing info, availability, and everything you'll need to know!
South Coast Winery Wedding Photographer
Even More Venues…
Want to see more? Explore tons of gorgeous wedding venues across Southern California: