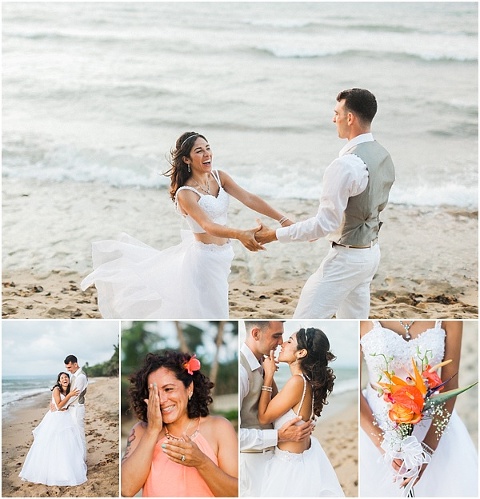 ---
A Rincon Beach Wedding
---
I met Desi at Indiana University where we both attended college. After getting to know her more, I realized that she was one of the strongest women I know. She continued to show me that, over and over again, with her stories of resilience, high achievement, and positive attitude. I knew she was pretty remarkable!
It's funny, when I finally got to meet Zach in Montana, I wondered who could be as giving and driven as my friend Desi. It turns out Zach fits the bill! I was so thrilled to find that he was just as much fun during our stay with them. The two are so welcoming, reassuring and supportive.
Seeking the calmness of the sea, Desi and Zach planned their destination wedding in Rincon, Puerto Rico. We all planned our trip so that we could spend the whole week with them in Mayaguez, where Desi's family lives. Staying with locals high up in the mountains was quite the addition to our trip. Desi's aunts and uncles treated us like family and made us feel welcome in their home. During the days, we would adventure with Desi's 4 younger siblings swimming in the ocean and even harvesting indigenous fruit from the jungle. By evening, we would have big family dinners and stay up to chat into the night.
The day of the ceremony finally came. We gathered on the sand for this sweet Rincon beach wedding. As Zach's father started the ceremony, we all felt the intimacy in that moment. We got to hear Zach and Desi speak about their bond, laugh with each other, and promise their futures. The sea breeze, traditional Puerto Rican florals and warm hugs after the ceremony made this day unforgettable. Congrats, congrats, congrats!!
Ceremony site: Turtle Beach in Rincon, Puerto Rico. Drinks nearby at Tamboo Bar & Seaside Grill.